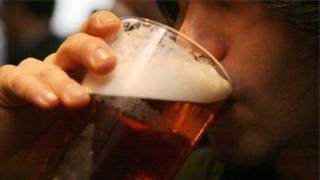 Around 2.5 million people in Great Britain – 9% of drinkers – consume more than the new weekly recommended limit for alcohol in a single day, latest figures from the Office for National Statistics show.
The 2014 data predates the new limit of 14 units of alcohol per week for men which began in January.
Although habits may start to change, experts say the figures are concerning.
The chief medical officer says there is no safe level of regular drinking.
The ONS figures show 58% of people – 28.9 million – drink some alcohol in a typical week.
This figure is lower than a decade ago but has remained stable over the last few years.
Young people are less likely to have consumed alcohol in the last week than those who are older. Keep Reading